---
Draft Redbooks, last updated 16 Sep 2021
This IBM® Redbooks® publication is a guide to IBM Power Systems Private Cloud with Shared Utility Capacity featuring Power Enterprise Pools (PEP) 2.0. This technology enables multiple servers in an to share base processor and memory resources, and draw upon pre-paid credits when the base is exceeded. Previously, the Shared Utility Capacity feature supported IBM Power System E950 (9040-MR9) and IBM Power System E980 (9080-M9S). The feature was extended in August 2020 to include the Scale-out Power Systems servers that were announced on 14 July 2020, and it received dedicated processor support ... [more]
---
Draft Redpaper, last updated 16 Sep 2021
This IBM® Redpaper publication provides a broad understanding of a new architecture of the IBM Power E1080 (also known as the Power E1080) server that supports IBM AIX®, IBM i, and selected distributions of Linux operating systems. The objective of this paper is to introduce the Power E1080, the most powerful and scalable server of the IBM Power portfolio, and its offerings and relevant functions:
Designed to support up to four system nodes and up to 240 Power10 processor cores The Power E1080 can be initially ordered with a single system node or two system nodes configuration, ... [more]
---
Draft Redpaper, last updated 16 Sep 2021
This IBM Redpaper publication describes best practices for deploying and using advanced Cisco NX-OS features to identify, monitor, and protect Fibre Channel (FC) Storage Area Networks (SANs) from problematic devices and media behavior. The paper focuses on the IBM c-type SAN switches with firmware Cisco MDS NX-OS Release 8.4(2a).
---
Draft Redbooks, last updated 16 Sep 2021
One of the primary criteria in judging a storage server is performance, that is, how fast it responds to a read or write request from an application server. How well a storage server accomplishes this task depends on the design of its hardware, its firmware, and its configuration. This publication is intended for individuals who want to maximize the performance of their DS8900 storage systems and investigate the planning and monitoring tools that are ... [more]
---
Redbooks, published 9 Sep 2021, last updated 16 Sep 2021
This IBM® RedpaperRedbooks® publication describes the concepts, architecture, and implementation of the IBM DS8900F family. The WhitepaperRedpaperbook provides reference information to assist readers who need to plan for, install, and configure the DS8900F systems. This edition applies to DS8900F systems with IBM DS8000® Licensed Machine Code (LMC) 7.9.20 (bundle version 89.20.xx.x), referred to as Release 9.2. The DS8900F is an all-flash system exclusively, and it offers three classes:
DS8980F: Analytic Class: The DS8980F Analytic Class offers best performance for ... [more]
---
Redbooks, published 14 Jul 2021, last updated 15 Sep 2021
IBM® Spectrum® Virtualize software running on IBM Storage products provides clients an opportunity to maintain two independent copies of a single data volume across two sites by using the IBM Spectrum Virtualize Metro Mirror feature. Starting with Spectrum Virtualize V8.3.1.1, two site replication can be extended to a third site. The use of a three-site setup means data can be replicated asynchronously to an independent system in a third site. This three-site setup is called IBM Spectrum Virtualize 3-Site Replication. In this IBM Redbooks® publication, we describe IBM Spectrum Virtualize ... [more]
---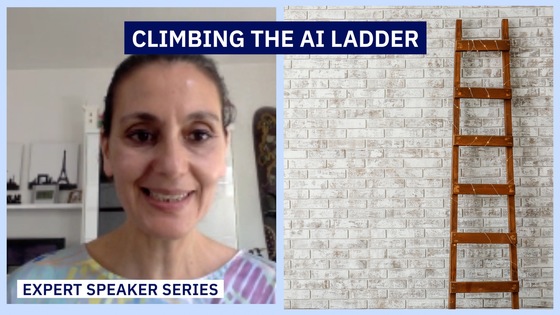 Climbing the AI ladder
IBM Z
15 Sep 2021
Ask yourself, what is the relationship between artificial intelligence and a ladder? IBM AI Product Manager Khadija Souissi introduces how the AI Ladder helps to establish a robust information architecture.
---
Redpaper, published 14 Sep 2021
This IBM® Redpaper chapterexplains how to take a backup of your data by using either of two methods, and it explains how to recover your data if there is a disaster. This paper addresses topics for IT architects, IT specialists, developers, sellers, and anyone looking to implement and manage backups in the cloud. Moreover, this publication provides documentation to transfer the how-to-skills to the technical teams and solution guidance to the sales team. This book complements the documentation that is available at IBM Documentation and aligns with the educational materials that are provided ... [more]
---
Redpaper, published 13 Sep 2021
Having appropriate storage for hosting business-critical data and advanced Security Information and Event Management (SIEM) software for deep inspection, detection, and prioritization of threats has become a necessity for any business. This IBM® Redpaper publication explains how the storage features of IBM Spectrum® Scale, when combined with the log analysis, deep inspection, and detection of threats that are provided by IBM QRadar®, help reduce the impact of incidents on business data. Such integration provides an excellent platform for hosting unstructured business data that is subject to ... [more]
---
Redpaper, published 3 Sep 2021, last updated 13 Sep 2021
The goal of this IBM® Redbooks® publication is to demonstrate the ability to perform single click automated deployments of multi-platform applications that include IBM Db2 for z/OS database schema changes by using the capabilities of IBM Db2 DevOps Experience for z/OS. Pushing the application and database code changes to a source control management system (SCM) triggers a single CI/CD pipeline execution for application and database changes. Therefore, it mitigates the dependency on the DBA to deploy those database changes in a separate process. At the same time, DBAs can safeguard the ... [more]
---